"Write the saddest story you could think of in 4 words"? Challenge accepted.
With that, we here at the SecureAPlus Team has come up with our version of the saddest Antivirus story which we have all heard far too many times over the years.
1. Antivirus License has Expired
Most users are content with using the free or trial version of their favorite anti-virus. Once their trial has expired, they may have no choice but to look for alternatives. If they trust that particular antivirus brand or their features, they purchase it.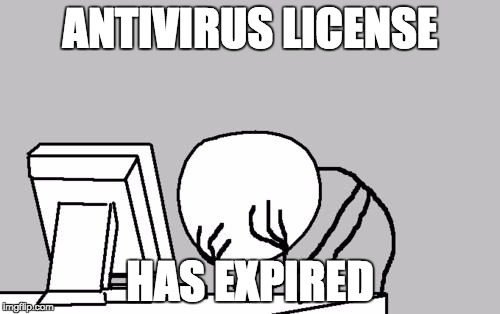 Every user will always wish for more and wouldn't it be good if they can get a perpetual license for their favorite Anti-Virus?
Sadly, this is rarely available no matter how much you try to search on Google.
2. Antivirus Popup During Game
To all the gamers out there, we feel your pain.
Having to witness your game coming to a halt just because of a pop-up or advertisement.
When you return to the game after removing the pop-up, you find you or your army all dead and defeated.
It's one of the flip-table moments and has come to the attention of many antivirus software companies.
Antivirus makers such as Avira, Bitdefender, ESET, and many more introduced Gamer mode to give users zero disruption without compromising on computer protection.
Now, you can fight monsters or other players alike while the antivirus fights the malware and viruses silently.
3. Antivirus Slow Down Computer
One of the top criteria when selecting an Antivirus is that it has to be light on computer resources.
This allows dedication of more CPU & RAM for better uses especially for those whose computer system has lower system specifications.
Besides, scanning speed needs to be fast, so users do not feel the difference when the Antivirus is doing a scan.
On the other hand, avoid attributing all the slowing down to the Anti-Virus.
This is because the computer may already not have a lot of memory, or is already low in memory with all those browser tabs you have open.
4. Antivirus Cannot Find Virus
One of the main reasons for having an Anti-Virus is to remove the malicious virus that has been secretly hiding.
It can be frustrating having to try different Anti-Virus software but only to find that the threat remains somewhere on the computer.
For certain antivirus vendors, it may take up to four weeks to detect a new virus from the time of the initial scan.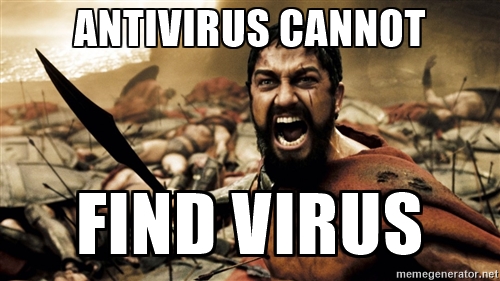 If your Anti-Virus cannot detect the threat immediately, how about allowing only applications you trust to be running in your computer instead?
This means that applications that are not trusted by you and try to run without your permission (highly likely to be malware) will not be able to execute until of course, you allow it.
5. Clash with Other Antivirus
You might think that much like playing a game, the more weapons you have at your disposal, the faster you can dispatch your enemies.
That's not necessarily true in the case of running two Anti-Virus software at the same time.
Instead of working well together, they will be competing with each other not just with what to do with detected threats, but also for your computer's resources.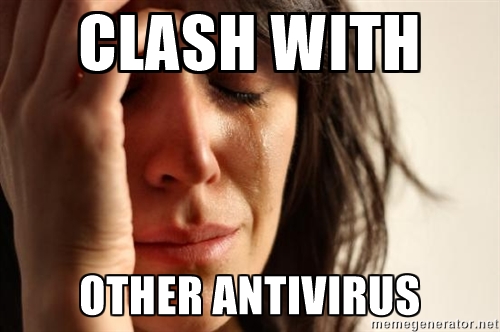 While multiple layers of defense are essential, it's not about getting more. It's about getting the right kind of securities.
Having one automatic anti-virus scanner is usually more than enough but if you had to add more, make sure that the additional is either an on-demand scanner or a cloud antivirus.
Furthermore, adding other types of defenses such as application whitelisting and application control work best with antiviruses.
To end it off, here's a 4-word happy story you can get with SecureAPlus - "Different from the rest."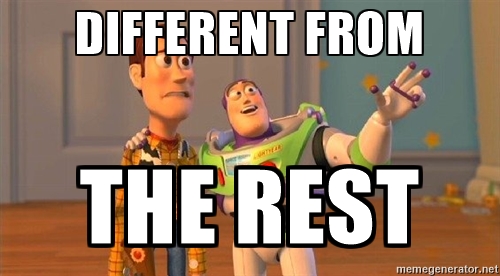 The stories we shared are typical problems you may have encountered while using an antivirus.
For SecureAPlus, we try to avoid or at least minimize these and give you maximum protection for your everyday needs.
Get SecureAPlus free for 12 Months and extendable freemium license (or even perpetual license) with our referral program.
You get up to 10+ cloud Anti-Virus engines in one software that's light on computer resources and does not clash with each other.
SecureAPlus is also compatible with any antivirus that you may already be using.
Coupled with the next generation endpoint security of intelligent Application Whitelisting and Application Control, every blocked potential threat will be given a diagnosis by the Universal Anti-Virus and a second opinion scanner to decide whether to trust and unblock the application.
This is especially effective against Advanced Persistent Threats (APT) which most traditional anti-virus protection software struggle with.
Here's Your Chance to Win!
Share with us you 4-word saddest story (no vulgarities allowed!) about your experiences with Anti-Virus. Our favorite 2 lucky winners will get a SecureAPlus perpetual license.
So who's to say you can't use your favorite security software forever? 😉